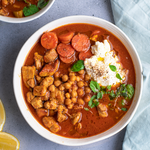 Servings: 4
Ingredients:
5 portions of chicken thighs from Hudson Meats 
300ml passata from Hudson Meats
1L chicken stock from Hudson Meats
4 stalks of celery sliced
400g canned chickpeas drained
1 red onion finely chopped
Fresh coriander or basil to garnish
Method
Cut chicken thighs into bite sized pieces. Season with 1 tsp salt and 1 tsp pepper.
Add oil to a large stock pot on medium high heat. Add chicken and cook until slightly browned.
Add ginger, garlic and onion to the pot and sauté until fragrant. Add harissa paste, turmeric, and ground cumin. Stir and add in carrot and celery. Pour in passata and bring to a simmer. Pour in stock, salt and pepper. Turn down heat to medium low and cook for 20 minutes. Add in chickpeas halfway through.
Divide into bowls, top with coriander and yoghurt.