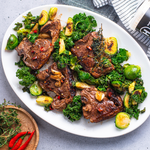 Ingredients 
4 lamb loin chops from Hudson Meats
1 tbsp Anchovy butter from Hudson Meats 
200g Brussels sprouts quartered 
2 red chillies finely chopped 
Method 
Add olive to a pan on medium heat. Sautee kale and Brussels sprouts until slightly charred. Season with salt and pepper. Remove from pan
Trim excess fat and season lamb chops with salt and pepper
Turn up the heat and place lamb in pan, fat side up. Cook until fat has caramelised for 4-5  minutes. Lower the heat to medium. Lay the chops flat on the pan. Add anchovy butter, thyme, garlic and chilli.
Baste with juices and cook each side for 4 minutes.
Spoon the basting sauce over lamb and Serve with kale, brussels sprouts and a dollop of anchovy butter.