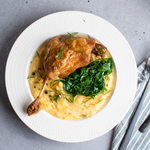 Servings: 2
Ingredients
1 portion of confit duck from Hudson Meats,
100g Meredith Dairy marinated goat cheese
Method
Pre-heat oven to 200C. Remove excess fat and place duck skin side up on a rack in a roasting pan.  Roast for 20 minutes.
Heat ½ tbsp olive oil in a pan on medium heat. Add garlic and saute until fragrant. Add spinach, turn off the heat and mix until wilted. Transfer wilted spinach to a plate and wipe down pan.
Add all ingredients for dressing to a jar, close with a lid and shake well to combine.
Add polenta to the same pan with cold water and stir. Turn on the stove, add hot water and bring to a simmer after 15 minutes. Add goat cheese and whisk until smooth.
Serve immediately into bowls.
Top with spinach, duck and drizzle dressing. 
Recipe by Sarah Ahmed : @nourish.glow.repeat