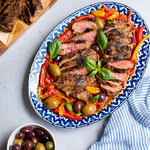 Servings: 4

4 portions of lamb backstrap from Hudson Meats
1⁄2 cup Lillie's Q Gold BBQ Sauce from Hudson Meats
100g olives from Hudson Meats
150ml passata from Hudson Meats
6 cloves minced garlic
1 small red onion finely chopped
3 tsp dried oregano
1⁄4 cup olive oil
1 small red capsicum thinly sliced
1 small yellow capsicum thinly sliced
1 small orange capsicum thinly sliced
Handful fresh basil
1⁄4 tsp red pepper flakes
1 1/2 tsp Salt
2 tsp Pepper

Method
Combine gold BBQ sauce with 4 cloves minced garlic, 2 tsp dried oregano, 1 tsp salt and pepper. Pour over lamb and marinate.
Heat barbecue on a high heat. Cook lamb backstraps on all sides about 8 to 10 minutes (medium rare).
Heat 1⁄4 cup olive oil to a pan on medium high. Add garlic and onion, sautee until fragrant. Add red pepper flakes, passata, capsicums and oregano. Cook for 10 minutes on medium low. Toss chopped fresh basil.
Slice lamb and serve over peperonata.