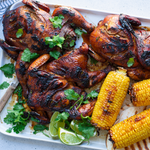 Ingredients
4 spatchcock chicken from Hudson Meats
1 pack soft tortillas from Hudson Meats
125 ml low sodium soy sauce
3 tbsp olive oil
4 tbsp honey
Juice from 2 limes
I bunch coriander finely chopped
1 tbsp smoked paprika
1 tbsp cumin
1 inch ginger minced
6 cloves garlic minced
4 corn cobs
1 lime
Method
Use a sharp knife to cut each chicken's back lengthwise down the spine and flatten by pressing down. Wash thoroughly and clean the insides.
Pat dry and score each chicken.
Mix soy sauce, olive oil, honey, lime juice, half of the coriander, paprika, cumin,
ginger and garlic in a small bowl. Pour over chicken and set aside to marinate for 2 hours.
Heat up the BBQ and place each chicken breast side down. Cook for 10 minutes and turn chicken over cooking for further 10-15 minutes. Brush chicken with left over marinade continuously.
Brush corn with olive oil and a squeeze of lime. Place on BBQ and cook for 10
minutes turning every few minutes until partly charred.
Heat tortillas on grill.
Garnish chicken with left over coriander. Serve with lime wedges, corn and tortillas.
Tip - If concerned about the chicken not being cooked through or burning, remove from BBQ and cook in an oven at 180C for 15 minutes.