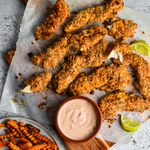 3 portions of chicken breast from Hudson Meats
1 tbsp hardcore rub from Hudson Meats (contains salt)
½ cup Greek yoghurt mixed with ½ cup water
2 slices of toasted wholewheat or 150g wholewheat panko breadcrumbs
½ or 1 tbsp sriracha (depending on spice levels)
Method
Cut chicken breast lengthwise into tenders. Season lightly with salt and pepper.
Add yoghurt mixture to a large bowl and add chicken. Mix well and set aside for 20-30 minutes.
Crush bread using a rolling pin or lightly blitz in a food processor to make coarse breadcrumbs.
Create an assembly station. Crack eggs into a bowl and mix. Add flour to a bowl. Add blitzed breadcrumbs to a bowl and mix with hardcore rub and garlic powder. Place the chicken in yoghurt mix along with the other bowls. 
Pre-heat oven to 220C. Line a large tray with baking paper. Place with assembly station.
Dip chicken tender (one at a time) in flour, coating well. Dip into egg mix. Press into breadcrumb mixture, turning to coat completely. Set on baking sheet and continue with remaining tenders.
Bake in oven for 30 minutes.
Mix all ingredients for dip. Serve with chicken tenders along with coleslaw and sweet potato fries.