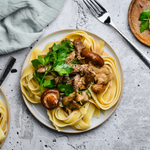 Servings: 4
Ingredients
750g rump steak from Hudson Meats
400g pappardelle rustichella pasta from Hudson Meats
500ml chicken stock or beef stock from Hudson Meats
3 tbsp Dijon mustard from Hudson Meats
1 tbsp Worcestershire sauce
300g mix of shitake and swiss brown mushrooms
1 brown onion finely sliced
1 tbsp corn flour mixed with 2 tbsp water (optional)
Method
Cut steak into thin strips
Heat pan with olive oil on medium high heat, add steak and season with salt and pepper. Cook for 5-7 minutes on each side until browned.
Bring a large pot of salted water to boil and add pasta. Once cooked through till al dente drain and set aside.
Remove steak from pan and set aside.
Add onions and garlic. Cook till translucent and add mushrooms.  Cook for 4-5 minutes.
Add beef and mix. Add Dijon mustard, Worcestershire sauce and stock. Stir well.
Bring to a simmer for 3-5 minutes then add sour cream. Stir until well incorporated and cook for 3-4 minutes. If the consistency isn't thick to your liking add cornflour mixture, stir and cook for 1 minute.
Season with pepper and parsley. Serve over cooked pasta.