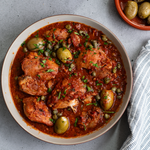 Servings: 2-3
Ingredients
6 portions of chicken thighs from Hudson Meats
250ml Peter Watson's puttanesca sauce (half jar) from Hudson Meats
50g feta stuffed olives from Hudson Meats
1 tsp crushed red pepper flakes
Method
Pat chicken dry with a paper towel.
Season chicken with paprika, salt and pepper.
Heat olive oil in a large skillet on medium high. Add chicken thighs and sear on each side until golden brown for 7-8 minutes.

Remove chicken from pan and transfer to a plate. Add garlic and red pepper flakes. Cook for 2-3 minutes and add puttanesca sauce.

Add stock, capers and bay leaf. Simmer over medium low heat for 10 minutes.
Garnish with olives and parsley.