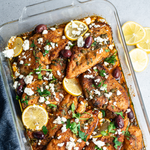 Servings:6

Ingredients
4 portions of chicken breast from Hudson Meats
125ml chicken stock from Hudson Meats
100g feta crumbled from Hudson Meats
100g olives from Hudson Meats
120g flour
100 ml olive oil
Juice from 3 lemons
6 cloves minced garlic
100g capers
2 tsp smoked paprika
2 tsp chilli flakes
2 tsp salt and pepper
20g fresh parsley finely chopped

Method
Slice chicken in the middle crosswise and lightly pound each piece.
Season each piece with half salt and pepper
Place flour on a plate. Coat chicken lightly in flour and transfer to a plate.
Heat olive oil in a large oven safe pan. Pan fry chicken until golden brown, 2-3
minutes on each side. Transfer to a separate plate.
Preheat oven to 180C.
Add garlic to pan along with capers, red pepper flakes and paprika. Add lemon juice, stock, olives and half of the parsley. Season with salt and pepper
Place chicken back into pan, place a few pieces of sliced lemon in pan. Cover pan
and place in oven for 20 minutes.
Garnish with feta and parsley.