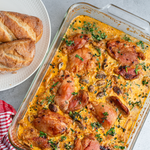 Servings: 4
Ingredients 
Method
Preheat oven to 180C

Season chicken with salt, pepper and 1 tsp smoked paprika. 

Add olive oil to an oven safe pot on medium high. Brown chicken and set aside. 

Add garlic, leeks, thyme, remaining smoked paprika and mushroom. Once the mushrooms are slightly fried, add Dijon mustard, cream and stock. Season with salt and pepper. 

Cover the pan and place in oven for 20 minutes.

Garnish with parsley and serve with bread rolls.