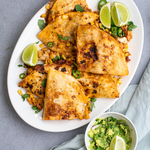 Servings: 4
Ingredients
2 portions of chicken breast from Hudson Meats
1 packet of Gran Luchito cooking sauce from Hudson Meats
2 tbsp olive oil
8 tortillas
1 small red onion finely diced
1 jalapeno seeds removed finely chopped
2 sweet corn cobbettes kernels cut from cob
200g shredded cheese
Handful coriander
Method
Cut chicken breast into small bite sized pieces. Season with salt and pepper.
Heat a pan on medium high, add olive oil and chicken. Cook until browned for 2-3 minutes.
Add onion, jalapeno and corn. Cook until lightly fried. Pour in Gran Luchito cooking sauce and bring to a simmer. Add coriander. Cook for 5-10 minutes.
To assemble, sprinkle shredded cheese and spoon 2 tbsp chicken mixture to spread over half of the tortilla. Fold to form a semicircle. Repeat process for all tortillas.
Heat a griddle pan over medium heat. Working in batches, cook quesadillas in hot pan until golden on each side.
Serve with guacamole.