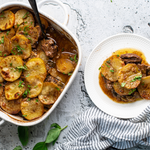 Ingredients
600g potatoes peeled and thinly sliced
Method 
Add olive oil to a large pot. Add beef and brown, transfer to a plate and set aside.
Add onions, leeks, garlic and butter. Cook until fragrant and slightly charred. Return beef to the pan and add cumin, salt and pepper. Mix well and pour in stock.
Cover and cook on medium low heat for 30 minutes.
Preheat the oven to 170°C. Grease casserole dish. Place half of the potatoes on the bottom of the dish. Pour in beef stew. Layer remaining potatoes over the mixture. Cover with foil and bake for 1 hour.
Remove dish from the oven and brush potatoes with cream. Bake uncovered for 20 minutes. Garnish with parsley.