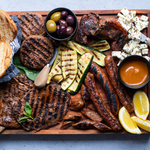 Ingredients
1 small BBQ from Hudson Meats
100g olives from Hudson Meats
Aphrodite Feta from Hudson Meats
Lillie's Q Hot Smoky BBQ Sauce from Hudson Meats
Lillie's Q Gold BBQ Sauce from Hudson Meats
Good far chilli mayo from Hudson Meats
Aioli from Hudson Meats
Zucchini thinly sliced lengthwise or vegetables of choice
Olive oil
Burger buns
Fresh baby spinach
Fresh rosemary finely chopped
6 cloves minced garlic
.
Method
Marinate sausages in 1⁄4 cup smoky bbq sauce
Marinate lamb loin chops in 1⁄4 cup gold bbq sauce, 1⁄4 tsp salt, 1 tsp pepper and 4 cloves minced garlic
Season scotch fillet steaks with 1⁄4 tsp salt, pepper, rosemary, 2 cloves garlic and
olive oil
Pre-heat BBQ to medium high
Lightly brush lamb chops with olive oil and place on hot BBQ. Cook on each side for 4-5 minutes whilst brushing with gold BBQ sauce occasionally.
Place sausages on grill sausages and cook for 8 minutes turning until lightly charred brushing with smoky BBQ sauce.
Cook steaks for 2 minutes on each side brushing with olive oil. Remove steaks and loosely cover with foil
Grill sliced zucchini and buns until lightly charred.
Serve with feta, sauces, mayo, fresh baby spinach and olives.