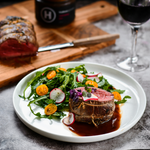 500g eye fillet from Hudson Meats
60ml beef or chicken stock 
1 tbsp balsamic vinegar from Hudson Meats
1/2 tbsp dijon mustard from Hudson Meats
Red wine jus from Hudson Meats 
100g cherry tomatoes thinly sliced 
1/2 bunch radish thinly sliced
Preheat oven to 200°C.
Pat the fillet dry with paper towel. Marinate with salt, pepper, 1 clove minced garlic and olive oil.  Set aside for 30 minutes Preheat skillet to searing hot over the stove.
Brown the beef well on all sides on pan (2 minutes on each side)
Place whole eye fillet in a small roasting pan.
In a bowl mix minced garlic, thyme, balsamic vinegar, mustard and stock. Pour over eye fillet
Roast, uncovered, in the oven for 20 minutes for medium rare, longer for well done.
Remove fillet from pan and transfer to a board to rest for 15 minutes.
Heat half jar of red wine jus on stove and bring to simmer on medium heat.
Remove string from beef and carve beef.
Mix ingredients for salad and serve with carved beef and jus. 
Recipe by Sarah Ahmed : @nourish.glow.repeat