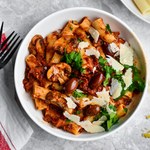 Ingredients
1 jar Peter Watson's Italian Puttanesca sauce from Hudson Meats
200g Rigatoncini Rustichella Pasta from Hudson Meats
1 tbsp garlic olive oil from Hudson Meats
100g swiss brown mushrooms
Garnish
Method
Cook pasta in a large saucepan of boiling salted water until al dente. Reserve 2-3 tbsp pasta water and drain the pasta well.

Slice mushrooms.

Add olive oil to a pan on medium heat. Add mushrooms and sauté for 4-5 minutes.
Lower the heat and pour in puttanesca sauce. Bring sauce to a simmer after 3-4 minutes. Add reserved pasta water to bring the sauce to the desired consistency.
Add pasta and parsley to the sauce. Toss to combine. Serve immediately and garnish with olives and shaved Parmigiano. 
Recipe by Sarah Ahmed : @nourish.glow.repeat