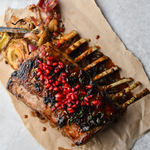 Servings: 2-3 
Ingredients
1 lamb rack from Hudson Meats
3 tablespoons and 1 tsp garlic olive oil
and from Hudson Meats
2 tsp sherry vinegar Hudson Meats
4 tbsp tablespoons plus 2 teaspoons pomegranate molasses
2 tablespoons fennel seeds
2 medium fennel bulbs, sliced lengthwise
Pomegranate seeds for garnish
 Method
Bring lamb to room temperature. Pat dry with paper towels and season with 1 tsp salt and pepper.
Add 1 tbsp garlic olive oil to a frying pan on medium high heat. Place lamb, fat side down and cook for 10 minutes on one side and 6 minutes on the other until both sides are browned.
Pre-heat oven to 200C. Place lamb (fat side up) in a lined baking tray along with sliced fennel and onions.
Add 2 tbsp garlic olive oil, sherry vinegar, yogurt, thyme, 4 tbsp pomegranate molasses, brown sugar, cumin powder, coriander powder, fennel seeds, salt and pepper to a small bowl. Whisk to combine well. Coat both sides of the lamb rack with marinade.  Drizzle 1 tsp olive oil over onion and fennel lightly.
Roast lamb for 20 minutes. Remove from oven and brush 2 tsp pomegranate molasses over the top of the lamb rack. Cover lamb with aluminium foil and roast for additional 20 minutes.
Let lamb rest for 10 minutes before carving. 
Recipe by Sarah Ahmed : @nourish.glow.repeat