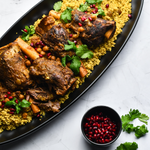 4 lamb shanks from Hudson Meats
1 jar tomato sauce from Hudson Meats
3 cloves Bellingen garlic (minced) from Hudson Meats
1 red onion finely chopped
400g canned chickpeas (drained)
*add 1 tsp salt if the Harissa spice mix does not contain salt
Pomegranate seeds and coriander for garnish
Couscous
1 packet Moroccan Couscous from Hudson Meats
Method
Season lamb shanks with 2 tbsp harissa spice mix and set aside for 30 minutes to 1 hour to marinade,
Spray a pan with 1 tbsp olive oil and brown lamb shanks on each side. Remove from pan,
Add olive oil to the same pan. Add onions, cinnamon, ginger and garlic. Cook until slightly fried. Add remaining harissa spice mix, turmeric and ground cumin. Fry for 1- 2 minutes.
Add spice mix to a slow cooker. Add dates, chickpeas, tomato sauce and stock. Mix well. Place lamb inside.
Cook on high for 6 hours. Mix and flip over lamb in 2 hour intervals.
Add contents of couscous to a large bowl. Pour hot water and olive oil. Mix with a fork and cover with a plate.
Serve couscous with lamb shanks and gravy. 
Recipe by Sarah Ahmed : @nourish.glow.repeat