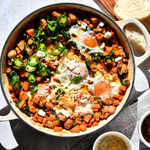 Servings: 4
Ingredients
4-5 sausages of choice from Hudson Meats cut or broken into pieces(2cm)
4 tbsp Gran Luchito salsa smoky chiptole from Hudson Meats
600g sweet potatoes cut into small cubes (1.5 cm)
Feta, sliced jalapeno and coriander for garnish
Method
Pre-heat oven to 180C.

To a casserole pan add sweet potatoes, cumin, onion, smoked paprika, salt, pepper and olive oil.
Mix well. Add sausages and mix.
Bake for 30-35 minutes until the sweet potatoes are cooked through.
Place pan on the stove. Add tomatoes and salsa. Cook until tomatoes are softened for 2-3 minutes.
Add spinach and cook till wilted. Use a spoon and make 6 indents in pan. Crack an egg into each. Cover and cook for 6-7 minutes.
Top with feta, jalapeno and coriander. Serve immediately.
Recipe by Sarah Ahmed : @nourish.glow.repeat