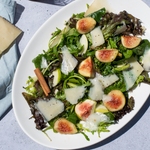 Serves 6
Ingredients
Salad greens for 6,
(mesclun, frisee, some torn radicchio and small red or white witlof leaves)
vinaigrette made of extra virgin olive oil & Forum Cabernet Sauvignon Vinegar
salt and freshly ground pepper to taste
Manchego Cheese
fresh figs
Method
to make the salad - rub a salad service bowl lightly with a bruised garlic clove (and then discard the garlic). Put in the leaves, dress with vinaigrette to taste and toss gently.
to serve - at the last moment, shave about 4 - 5 slices of manchego per person onto the salad and gently toss through the salad along with quartered fresh figs.
Recipe by Sarah Ahmed : @nourish.glow.repeat