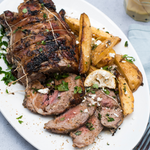 Serves 5
Ingredients
1.2kg boneless lamb shoulder marinated in lemon, oregano and mint from Hudson Meats
Feta from Hudson Meats for garnish
Roast potatoes
600g potatoes from Hudson Meats
Method
Preheat oven to 180C.
Cut potatoes into wedges and toss with garlic, oregano, salt and lemon.
Transfer lamb to a large roasting pan.
Roast for 45 minutes.
Add potatoes to the same roasting pan (around the lamb, coating with oil from the pan) and roast for further 45 minutes or until cooked to your liking.
Rest for 15 minutes.
Serve with feta and lemon.         
Recipe by Sarah Ahmed : @nourish.glow.repeat