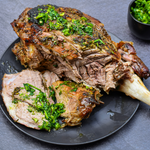 Servings 6

Ingredients
1 lamb leg from Hudson Meats
1kg baby potatoes (optional)
Lamb marinade
6-8 cloves minced garlic
2 lemons (juice and lemon rind)
4-5 sprigs rosemary
2 tbsp sherry vinegar from Hudson Meats
2 tsp salt

Chimichurri
1 cup olive oil
2 tablespoons red wine vinegar
1 cup finely chopped parsley
1 cup finely chopped coriander
8 cloves garlic , finely chopped or minced
1 habanero green chilli
2 sprigs rosemary
2 tsp coarse salt

Method
Pre-heat oven to 180C. Line a roasting tray with aluminium foil. Pat lamb dry with paper towels. Using a sharp knife, make shallow cuts all over.
Add ingredients for chimichurri to a bowl and whisk thoroughly.
Pour half chimichurri to a separate bowl and add all the ingredients for marinade. Mix well.
Place lamb (fat side up) on lined tray and pour over the marinade. Rub through thoroughly to make sure the marinade is evenly spread.
Cover lamb with aluminium foil loosely and roast for 1 hour (baste with juice from the pan each).  After 2 and a half hours remove foil to roast the top for the last 30 minutes.
Optional - hassleback potatoes
Make small crosswise cuts in each potato. Spray with olive oil and sprinkle sea salt.
Place in oven with lamb during the first hour and roast
Recipe by Sarah Ahmed : @nourish.glow.repeat