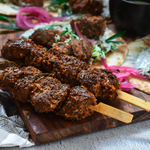 Servings: 4

Ingredients
8 lamb skewers from Hudson Meats
2 packs soft tortillas from Hudson Meats

Mint dressing
1⁄2 cup thick natural yoghurt
1 cup mint leaves
Juice of 1⁄2 lemon
1 tbsp olive oil

Tabouli
1 onion sliced thinly
1 cup parsley
1⁄2 cup mint leaves
1/4 cup olive oil
Juice of1 lemon
1 crushed garlic clove
1 large tomato
3 tbsp couscous
1/3 cup + 2tbsp hot water
Method
Spray a pan with olive oil. Place skewers on the pan on medium heat. Cook for 6-8 minutes on each side for medium rare. For well done, lower the heat, sprinkle water and cover the pan with a lid. Cook for 12-15 minutes. Cook in batches. Alternatively grill skewers on the BBQ.
For the tabouli, add onion, parsley, mint leaves and garlic to a food processor. Pulse for less than 30 seconds until the tabouli and leaves are finely chopped. Alternatively, finely chop onion, parsley and mint leaves. Add to a bowl.
Pour olive oil and lemon juice. Mix and set aside.
Add couscous and boiling hot water to a small bowl. Mix and cover. Once fluffy and cooked through add to tabouli and mix.
Add all ingredients for mint dressing to a food processor and pulse until creamy.
Heat each tortilla lightly on a pan.
Assemble by adding tabouli, half of the lamb from each skewer and mint dressing to each tortilla.
Optional, top with pickled onion.
Recipe by Sarah Ahmed : @nourish.glow.repeat