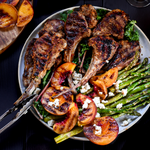 Ingredients
Lamb Cutlets
8 portions of lamb cutlets from Hudson Meats
Salad
2 bunches of asparagus ends trimmed
2 yellow peaches sliced thickly
100g salad leaves of choice
2 tbsp balsamic vinegar from Hudson Meats
75g goat cheese from Hudson Meats
Method
Mix olive oil, lemon juice, garlic, smoked paprika, salt and pepper in a bowl. Pour over lamb and set aside to marinate for 30 minutes.
Heat grill on medium high.
Add peaches and asparagus on the grill and cook for 2-3 minutes.
Place lamb cutlets on the grill. Brush with honey frequently and cook for 6-8 minutes on each side.
Transfer to a plate to rest.
Add salad leaves to a large serving plate, arrange lamb, asparagus and peaches on the plate. Add goat cheese and drizzle balsamic vinegar. Season with salt and pepper.
Recipe by Sarah Ahmed : @nourish.glow.repeat