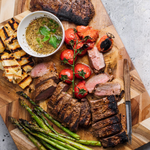 Servings: 4
Ingredients
3 portions of lamb backstrap from Hudson Meats
400g vine ripened cherry tomatoes
Salt and pepper to season
Lemon, mint vinaigrette
1/4 cup extra-virgin olive oil
2 tbsp finely chopped fresh mint
1 tablespoon Dijon mustard
Method
Mix garlic, sumac, paprika, cumin, yoghurt, olive oil, salt and pepper in a small bowl.
Bring lamb backstrap to room temperature and pat dry. Place lamb into a large bowl and pour over marinade. Mix well to coat. Cover and refrigerate lamb for 2-4 hours to marinate.
Heat barbeque on high heat. Grill lamb backstrap for 10-12 minutes, flipping the lamb over occasionally. 
Add tomatoes and asparagus in batches. Grill for 3-5 minutes. Add halloumi and grill for 2-4 minutes.
Remove lamb and transfer to a board. Allow the lamb to rest for 5 minutes before slicing.
Mix all the ingredients for the vinaigrette and drizzle over lamb, halloumi, asparagus and tomatoes. 
Recipe by Sarah Ahmed : @nourish.glow.repeat