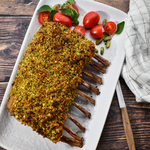 Ingredients
Lamb Marinade
1 rack of lamb from Hudson Meats (8 pins)
Herb & Pistachio crust
25g sourdough bread or 2 slices of sourdough (toasted and torn into chunks)
G
rated lemon zest
(1/2 whole lemon)
Method
Bring lamb rack to room temperature and pat dry. Season with salt and paprika.
Pre-heat oven to 180C. Line a tray with baking paper.
Add all ingredients for crush to a food processor and blitz until finely chopped.
Smear lamb with mustard on each side. Coat with the crust mixture and lightly press down to ensure the crust sticks.
Place in the oven and roast for 15 minutes. Cover with aluminium foil and roast for additional 30 minutes.
Transfer the rack to a carving board and let rest for 10 minutes.
Recipe by Sarah Ahmed : 
@
nourish.glow.repeat
.