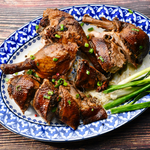 Servings: 3-4
Ingredients 
1 whole duck from Hudson Meats
1 whole orange peel and juice
2 cups low salt soy
sauce
½ cup Chinese cooking wine
Sliced spring onion for garnish
Method
Wash duck and pat dry with paper towels. Season duck with 1 tbsp Chinese 5 spice mix.
Heat a large deep pan over medium heat. Add duck to pan breast side down and cook for 10 minutes to brown the duck. Flip the duck over every few minutes whilst browning.
Remove duck from the pan along with any oil rendered from the duck.
Smash garlic and ginger using a pestle and mortar.
Over medium heat add 3 tbsp of duck oil rendered from the pan and add smashed ginger and garlic. After lightly browning the garlic and ginger, add 2 tbsp Chinese 5 spice mix, star anise, cloves, bay leaves, peppercorns and brown sugar. Cook for a minute.
Add the soy sauce, cooking wine, rice vinegar, orange peel, juice and water. Gently place the duck in the pan (the liquid should only cover half of the duck).
Once the sauce reaches boiling point, add ¼ cup honey, lower the heat and cook duck for 1 ½ hours, flipping the duck every 15-20 minutes.
Pre-heat oven to 200C.
Remove the duck out of the pan and lightly pat dry. Ensure all the liquid is drained from the cavity. 
Brush duck with honey and place on a roasting rack.
Roast for 15-20 minutes (monitor to prevent duck from burning).
Remove from the oven and allow the duck to rest for 10-15 minutes.
Carve, garnish with sliced spring onion and serve with liquid from the pan.
Recipe by Sarah Ahmed : @nourish.glow.repeat