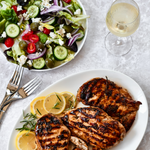 Ingredients
Chicken Marinade
4 portions of chicken breast from Hudson Meats
3 sprigs of rosemary finely chopped
6 cloves of garlic minced
4 tbsp Pukara Estate garlic olive oil from Hudson Meats
3 tbsp balsamic vinegar from Hudson Meats
Greek Salad (optional)
1 head romaine lettuce torn into bite sized pieces
1 red onion thinly sliced
1 large cucumber sliced or diced
4 large tomatoes diced or 150g cherry tomatoes sliced
½ red onion thinly sliced
170g feta from Hudson Meats (cubed)
100g olives from Hudson Meats
Method
Pat dry chicken and place in a deep bowl. Mix all the ingredients for chicken marinade in a bowl. Reserve 3 tbsp and pour the rest over chicken and mix thoroughly. Marinade for 30 minutes or up to 2 hours.
Preheat grill on bbq (or grill pan) to medium high. Add chicken and grill. Baste with reserved marinade. Cook for 6-8 minutes on each side.
Mix ingredients for Greek salad and serve with chicken. 
Recipe by Sarah Ahmed : @nourish.glow.repeat