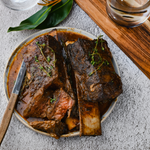 Ingredients
6 cloves of minced garlic
½ red onion thinly sliced
Method
Pre-heat oven to 175C. Pat dry beef ribs. Season ribs with 1 tsp salt and 1 tsp pepper.
Add olive oil to a Dutch oven or cast iron deep pan. Brown ribs on all sides on medium high heat for 6-8 minutes. Transfer ribs to a plate. 
Add anchovy butter, garlic and onion to Dutch oven on medium heat. Once the onions are translucent add thyme, black pepper, BBQ sauce, sherry vinegar, mustard and stock. Bring to a boil and then reduce the heat to low after 15 minutes.
Add beef ribs, baste with gravy and cover with lid.
Transfer to oven and cook for 1 ½  hours (or 2 hours for very tender meat). Remove from oven and allow meat to rest in pan for 20 minutes before serving.
Serving options: Serve with mashed potatoes and gravy from the Dutch oven. 
Recipe by Sarah Ahmed : @nourish.glow.repeat