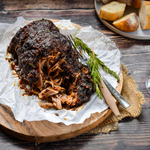 Servings: 6
Ingredients
Marinade
1.2kg boneless lamb shoulder from Hudson Meats
BBQ sauce
Method
Bring lamb shoulder to room temperature. Pat dry with paper towels.
Blitz onions, garlic and tomatoes in a blender. Pour into a bowl and add olive oil, mint, cumin, brown sugar, smoked paprika, salt and pepper. Mix well. Pour over lamb and marinate for a minimum of 30 minutes.

Place lamb with marinade in a slow cooker on high heat. Add

bouillon

cube. Cook for 6-8 hours .

Pre-heat oven to 190C. Prepare a medium sized roasting tray with aluminium foil. Place lamb on foil and fold foil up and over on all sides to prevent any liquid from leaking out.
Pour out juice from slow cooker to a pan on medium-high heat and add remaining ingredients for BBQ sauce. Cook for 8-10 minutes until the sauce thickens.
Pour half of the sauce to the lamb in foil and place tray in oven. Roast for 40 minutes and baste with sauce from the tray every 10 minutes.
Let lamb rest for 10 minutes before carving.
Serve with remaining sauce from the pan.
Serving ideas: Pulled lamb for tacos or sliders.  
Recipe by Sarah Ahmed : @nourish.glow.repeat