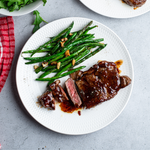 Servings: 2
Ingredients
1 tbsp olive oil
1⁄2 inch minced ginger
2 cloves garlic sliced
125 ml teriyaki sauce
250g green beans
1 tsp salt
2 tsp pepper
Method
Season steak with salt and pepper
Add olive to a pan on medium high heat and cook garlic until golden brown. Add
green beans and cook for 5-6 minutes until slightly charred.
Brush the pan with oil on high heat. Sear steak in pan for 2 minutes on each side.
Mix ginger with teriyaki sauce and lightly brush steak with sauce. Turn heat down to medium high. Continue to glaze each size, turning every 15 seconds, until a sticky sauce forms for an additional 2 minutes on each side.
Serve steak with green beans and salad of your choice.