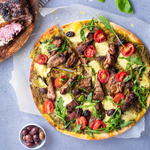 Ingredients
1kg lamb rump from Hudson Meats
3 tbsp balsamic vinegar from Hudson Meats 
1 tbsp dried Italian herbs 
200g cherry tomatoes halved
Pesto
Method 
Mix balsamic vinegar, garlic, thyme, herbs, onion, salt, pepper and olive oil together in a bowl. Rub this seasoning all lamb. 

Preheat oven to 180C. Roast uncovered for 45 minutes. Slice lamb into strips.

Place all ingredients except olive oil for pesto in a food processor. Gradually add oil. Add extra oil if required 

Pre-heat oven to 180C. 

Place pizza base on a tray. Spread pesto. Add lamb, bocconcini, olives and cherry tomatoes. Drizzle olive oil 

Bake for 10-15 minutes.

Top with fresh rocket and serve.