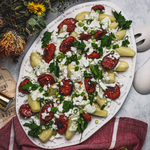 Serves 4
Prep time 15 mins
Cook time 30 mins
Ingredients
2kg Austrian Crescent potatoes
¼ tsp sea salt flakes
2 air-dried chorizos
2 tbsp apple cider vinegar
1 tbsp extra virgin olive oil
1/2 cup mayonnaise
2 tbsp sour cream
3 tbsp chopped mixed herbs (we used dill and parsley), plus extra to serve
125g Aphrodite Feta
1 sprig spring onion
Method
Peel potatoes and place in a large saucepan. Cover with cold water and season with salt. Bring to the boil over high heat, cover, then reduce heat to a simmer and cook for 25 minutes or until tender when pierced with a fork.
Meanwhile, slice chorizos . Heat a large frying pan over medium heat. Add chorizo and cook, stirring, for 4-5 minutes on each side until crispy.
In a small bowl mix mayonnaise, sour cream and herbs with the olive oil and vinegar.
Drain potatoes well and transfer to a serving platter. Slice spring onion finely. Top the potatoes with the mayonnaise dressing, cooked chorizo, scatter with crumbled feta, sliced spring onion and extra herbs to serve.
The salad will keep in the fridge for up to 2 days.
Recipe by Sarah Ahmed : @nourish.glow.repeat