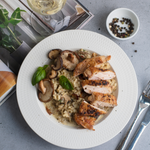 Serves 4
Ingredients
4 portions of chicken thighs from Hudson Meats
1 packet of Thistle be Good wild mushroom and tarragon risotto
30g finely grated pecorino from Hudson Meats
Method
Add risotto to a pan with 1 tbsp olive oil and boiling water. Cover and bring to a boil. Stir and bring to a simmer and cook for 15 minutes.
Season chicken with salt and pepper.

Heat 1 tbsp olive oil in a pan on medium high

Add chicken and sear each side until cooked through and golden brown (8-10 minutes each side.
Set aside.
Add olive oil, mushroom and garlic to the same pan. Sauté until mushrooms are cooked through and pour over risotto. Add fresh basil and toss to combine.
Serve into bowls and top off with chicken thighs. 
Recipe by Sarah Ahmed : @nourish.glow.repeat