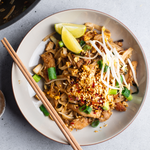 Ingredients
4 portions of chicken thighs from Hudson Meats thinly sliced
3 shallots finely chopped
100g tofu cut into small cubes 
4 tbsp palm/coconut sugar
Spring onion, lime, peanuts and chilli flakes for garnish
Method
Place rice noodles in a heatproof bowl and pour in boiling water to cover the noodles. Cover with a lid. After 5 minutes drain and wash with cold water. 

Season chicken with salt and pepper.

Add olive oil to a hot wok. Add carrot, garlic and shallots on medium high heat. Saute until fragrant. 

Add chicken and cook until browned and cooked through for 4-5 minutes. 

Push chicken to the side and add eggs. Mix until lightly fried and toss with chicken. Add tofu and cook.

Mix tamarind paste, fish sauce, oyster sauce and palm sugar separately. Pour sauce, bean sprouts and peanuts. Toss to combine well.

Serve immediately and garnish with spring onion, peanuts, chilli flakes and a lime wedge.