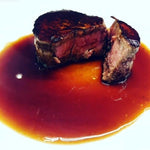 Ingredients:
4 eye fillets approx. 250gm each
 2 tbls hudson meats extra virgin olive oil
 Hudson Eats red wine jus
 sea salt & pepper to taste
Method:
Heat oil in pan and sear top and bottom of eye fillets for 30 seconds until brown.
Place in oven at 180 C approx. 10 minutes, until cooked to perfection.
Once the eye fillet has been cooked, remove from the oven and allow to rest. Heat up red wine jus, pour over eye fillet.
Serve with roasted kipfler potatoes and your favourite greens…Enjoy!