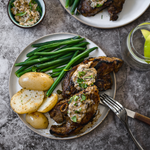 Lamb chump chops with anchovy butter
4 portions of lamb chump chops from Hudson Meats
300g baby potatoes cut in half lengthwise
Anchovy butter from Hudson Meats
2 tsp chopped fresh rosemary
3 cloves of garlic sliced thinly 
 Method
Pat dry the lamb chops. Add balsamic vinegar, 1 tsp rosemary, salt and pepper to lamb. Set aside to marinate.
Add water to a large pot and to a boil. Blanch the green beans by adding the beans to the pot. Boil green beans for 4-5 minutes and remove from pot. Plunge beans into cold water and set aside. Season beans with salt and pepper.
Add potatoes to the same pot and boil until potatoes are tender
Spray a sauce pan with oil and add potatoes in pan. Cook on high heat for 6-8 minutes turning the potatoes halfway. Lower the heat and add salt and pepper to taste. Add butter, garlic and rosemary and cook for 2-3 minutes. Remove from pan, add lemon juice and set aside
Add olive oil to pan on medium high heat. Add lamb to pan and cook for 4 minutes on one side. Flip over and cook for 2-3 minutes on the other. Lower the heat and cook for further 2 minutes. Transfer to serving plate and spoon anchovy butter and top off with chopped parsley.
Serve with potatoes and green beans.
Recipe by Sarah Ahmed : @nourish.glow.repeat