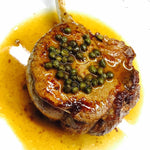 Ingredients:
4 veal cutlets
2 tbls olive oil
2 tbls cultured butter
2 tbls liliput capers
2 sage leaves
2 lemons (juice)
Salt & pepper to taste
Method:
Seal the veal cutlets in a fry pan with half oil & half butter.
Place in oven at 160 C approx. 15 minutes, until cooked to perfection.
Once the cutlet has been cooked, remove from the oven and allow to rest.
Remove the cutlet from the pan, add the capers to the pan and on a low heat, lightly sauté the capers and sage add juice from one lemon. Lightly sauté for approx. 1-2 minutes.
Pour the jus and capers over veal cutlets.
Serve with roasted kipfler potatoes and spinach greens…Enjoy!