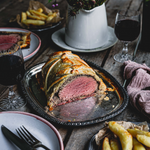 Serves 4
Prep time 10mins
Chilling time 1 hour
Cook time 35mins
Ingredients
1 packet Careme puff pastry
620g trimmed beef eye fillet
2 tbsp olive oil
½ tsp sea salt flakes
½ tsp freshly ground black pepper
1 egg, lightly beaten

Mushroom Layer
200g finely chopped mushrooms
3 tbsp Madeira wine or sherry
To serve, selection of
Roasted or mashed potatoes
Salad or steamed vegetables
Gravy
Method
Place rolled up frozen puff pastry in the fridge to thaw out.
Remove beef from fridge and bring to room temperature for about an hour before cooking. Season the meat with salt and pepper. Heat oil in a large frying pan over high heat. Sear beef on all sides for 1-2 minutes, including the ends. Remove from pan, cover with foil and place in the fridge.
Meanwhile, return pan to heat and add butter and oil over medium heat. Add mushrooms, cook for 3-4 minutes, until lightly golden. Add thyme and Madeira or sherry and cook for 5 minutes until the liquid is evaporated. Transfer to a bowl and add pate. Mix well and place in the fridge to cool.
Preheat oven to 220C. Roll out the thawed puff pastry sheet and cut in half. Remove string from fillet. Spread a quarter of the mushroom mixture over one sheet of pastry, the size of the fillet, then place fillet on top then spread remaining mixture over the sides and top of the beef. Cover with remaining pastry and press down firmly around the beef to seal. Trim pastry edges, leaving a 2cm border, then press down with a fork to seal. Use remaining pastry to decorate the top if you like. Place on a tray lined with baking paper and refrigerate for 20 minutes.
Brush the pastry all over with whisked egg.  Bake for 25 minutes, until pastry is golden and puffed and beefed is cooked (medium rare). Remove from oven and set aside to rest.
To serve, slice into 4 even slices and serve with roasted or mashed potatoes, salad or steamed veg and gravy, if you like.