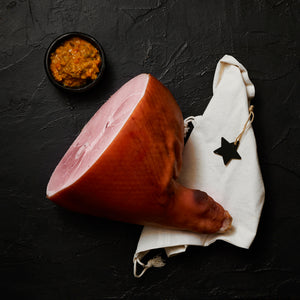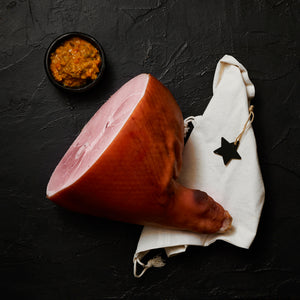 On Sale
Black Berkshire Ham | Shank
Black Berkshire is an old English heritage breed and is known for its sweet flavour.  The weight range is 3.5 kg - 4.5 kg.
The Black Berkshire is bred free-range and comes from Byron Bay NSW.
The legs are marinated in a traditional family recipe of brine for 48-52 hours and turned regularly.  The legs are then removed from the brine and left to hang for 6 hours.  They are then naturally wood smoked for 12 hours, using natural Australian timbers such as iron bark and black butt.
The Shank end of the ham, is ideal for those that still want the look of a leg of ham, but a smaller version.  The shank has more bone and the hock can used to make pea and ham soup.
If you would like to glaze the ham, instructions can be found on our Ham Glaze page.
We recommend serving your ham with Piccalilli on the side.
How to Glaze a Ham
Preheat oven to 180°C and line baking tray with foil.
Remove skin (rind) from the ham and score the fat in a diamond pattern.
Press a clove into the middle of each diamond.
Warm Glaze in saucepan.
Brush the Glaze onto the scored fat of the ham and spread evenly.
Place ham in baking tray and pour in ½ cup of white wine to prevent ham from sticking.
Bake for approximately 40 minutes, basting once or twice with the rest of the glaze, until a golden caramelised
If further caramelisation is required, continue to baste and leave in oven until desired effect.