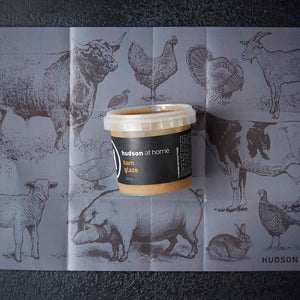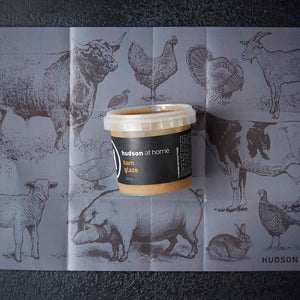 On Sale
Ham Glaze
Made in-house by our Chef in the Hudson Meats kitchen.
Our ham glaze is made using the following ingredients : dijon mustard, brown sugar, orange juice, honey, pepper, nutmeg, cloves and cinnamon.
How to Glaze a Ham
Preheat oven to 180°C and line baking tray with foil.
Remove skin (rind) from the ham and score the fat in a diamond pattern.
Press a clove into the middle of each diamond.
Warm glaze in saucepan.
Brush the glaze onto the scored fat of the ham and spread evenly.
Place ham in baking tray and pour in ½ cup of white wine to prevent ham from sticking.
Bake for approximately 40 minutes, basting once or twice with the rest of the glaze, until golden and caramelised.
If further caramelisation is required, continue to baste and leave in oven until desired result.