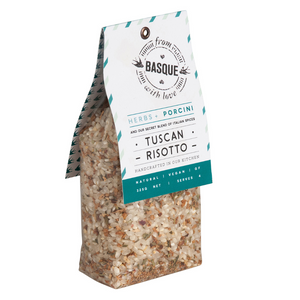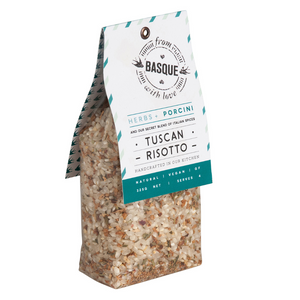 On Sale
Tuscan Rissoto | Basque with Love
Susana Corcoba grew up in the Basque country, a region bordering Spain and France, renowned for its strong culture of traditional cooking with quality produce. At home Susana's 'Ama' was always preparing something fresh from the local market, which sparked her obsession and passion for good food from an early age.
COOKING INSTRUCTIONS

Heat 2 tbs of olive oil over medium heat in a wide shallow frying pan. Add 2 tbs of diced tomatoes, chorizo, chicken, calamari, red capsicum and green peas to taste and fry for few minutes. Add 1 cup of rice and 2 cups of stock. Bring to boil, reduce to medium heat and cook for 20 minutes or until water has been absorbed and rice is al dente (don't stir once the stock is added to ensure a golden crust on the base). For a full on seafood version add prawns and mussels for the last 5 minutes. Drizzle with lemon juice and serve immediately.
INGREDIENTS
Bomba rice, garlic, shallots, salt, a secret blend of Spanish spices and love.