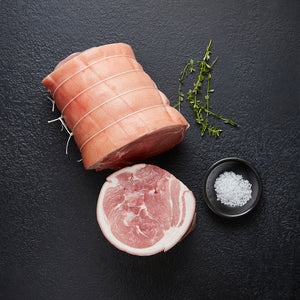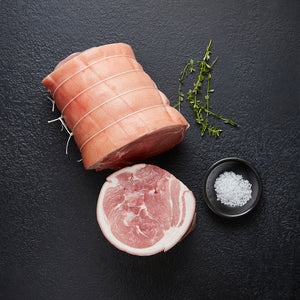 On Sale
Pork Shoulder
Black Berkshire is an old English heritage breed and is known for its sweet flavour.
The Black Berkshire is bred free-range and comes from Byron Bay NSW.
Black Berkshire is known for its good fat coverage which assists in ensuring that the meat does not go dry during the cooking process.
Cooking Instructions:
If not already done so, score pork skin at 5mm intervals right through into layer of fat just beneath the skin using a very sharp knife.


Pour boiling water over the skin, the scored cuts will open up as the skin contracts. Dry the pork very well with a clean tea towel or paper towels and place in refrigerator for a least 1 hour or as long as overnight.


Remove the pork from the refrigerator and bring to room temperature – thus allowing to cook evenly through. Preheat the oven to 230°C. Rub salt into the scoring cuts on the pork. 


Place pork in the oven at 220°C for 20 mins, then lower the temperature of the oven to 160°C. Remaining baking time will depend on the size of the meat. 


Cooking time : 45 minutes per 1 kg and 20 minutes for every kg thereafter.
Serve with Mrs Darlington's Bramley Apple Sauce.