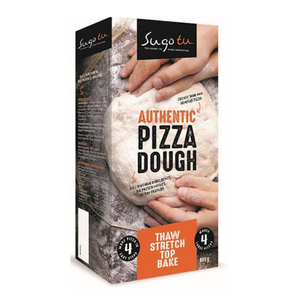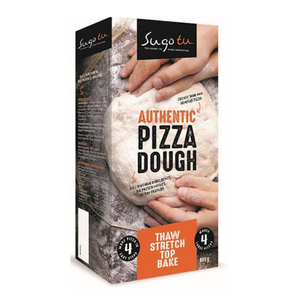 On Sale
Sugo Tu Pizza Dough
4 individually wrapped frozen dough discs - ready for you to create your own version of pizza perfection.
Creates a 10 -11 inch size pizza
Store Frozen - up to 12 months
Store refrigerated once thawed  - 3 days in sealed container
Try making calzones, stuffed dough balls, fried bread/naan and scrolls.
PIZZA DOUGH BAKING INSTRUCTIONS
Prepare the perfect pizza in 4 easy steps!
1. Thaw 
Preheat oven to 250 deg C,
​QUICK METHOD: Pop the pouch in a full sink of hot tap water (not boiling) for approx 20 - 30 minutes or until doubled the size.
BENCH TOP METHOD: Allow the dough to thaw and rise to double the size in pouch at room temperature, this can take a few hours
2. Stretch or Roll - Coat the dough with flour and stretch into shape with your hands or use a rolling pin. Place onto a piece of baking paper.
3. Top - Now its time to get creative....top with your favourite ingredients.
4. Bake -  Bake on a tray or pre-heated stone for 5 - 10 minutes or until the crust is golden brown.