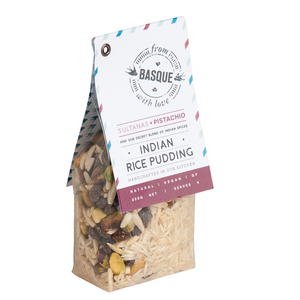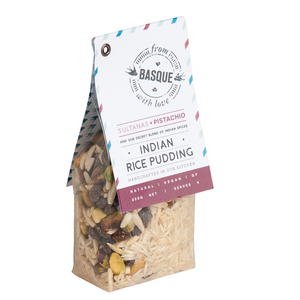 On Sale
Indian Rice Pudding | Basque with Love
Susana Corcoba grew up in the Basque country, a region bordering Spain and France, renowned for its strong culture of traditional cooking with quality produce. At home Susana's 'Ama' was always preparing something fresh from the local market, which sparked her obsession and passion for good food from an early age.
COOKING INSTRUCTIONS
Heat 2 tbs of butter over medium heat into a saucepan. Add the content of the packet followed by 2 cups of coconut milk and 3 cups of cow milk and simmer uncovered over low heat for approximately 20 minutes (stirring occasionally) or until rice is cooked to your desired consistency and sauce is deliciously creamy. Rice pudding will thicken on standing. Can be served warm or cold.
INGREDIENTS
Basmati rice, sultanas, pistachio, almonds, brown sugar, our secret blend of Indian spices and love.