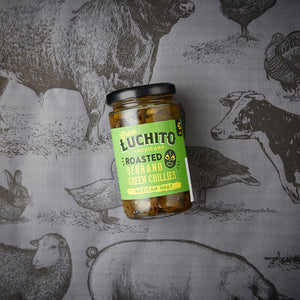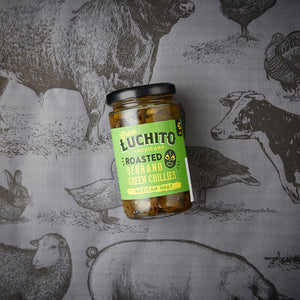 On Sale
Gran Luchito Roasted Serrano Green Chillies
Gran Luchito are hugely passionate about bringing the authentic taste of Mexico to kitchens around the world.
Gran Luchito  pour their heart and soul into their range of products because they want you to discover the joy of cooking and sharing real Mexican food with your friends and family.
Bring your Mexican feast to life with these Fire Roasted Serrano Green Chillies.
Serrano Chillies are smaller in size and hotter than a Jalapeño but with a similar fresh and bright taste.
The Serrano Chillies are fire roasted for added flavour.  
They are a classic Mexican kitchen essential, and these small and spicy chillies are the perfect topping for tacos, burritos, quesadillas, fajitas or wherever you would like a burst of Mexican heat!