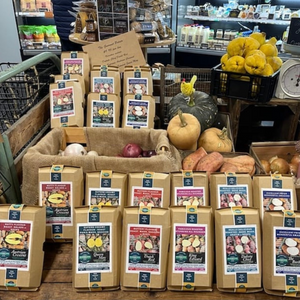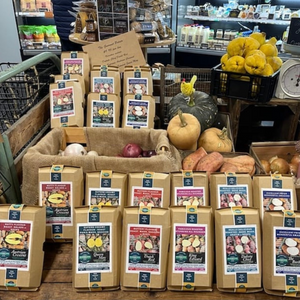 On Sale
Potatoes from The Gourmet Potato Company
A potatoes' flavour, texture and nutrition integrity are governed by their root systems which are influenced very strongly by the quality of soils, the climate zone and the methods of growing.
Most potatoes in Australia are grown in sand and substandard soils: they are largely folio fertilised for fast growth. The result is limited flavour and texture development. 
These potatoes are REGENERATIVELY GROWN in soils rich in organic matter in a cool climate with superb rainfall in the Southern Highlands, New South Wales.
There is approximately 1.2kg of potatoes in each box.
Austrian Crescent
- Nutty flavour & waxy texture
Ideal to roast, salads, steam, soups
 Dutch Red
- Creamy flavour & waxy-floury texture
Roast, mash, steam, gratin, soups
Sebago Supreme
- Creamy flavour & waxy texture
Chips, scallops, roast, bake, mash
Sir James (currently unavailable)
- the high heat hasselback roaster
King Edward (currently unavailable)
- Fabulous roaster, stunning all rounder
Queen May (currently unavailable)
- Creamy flavour & creamy texture 
 Paris mash level, roast, samosa
Dakota Chief (currently unavailable)
- Creamy flavour & waxy texture
Roast, mash, steam, gratin, soups