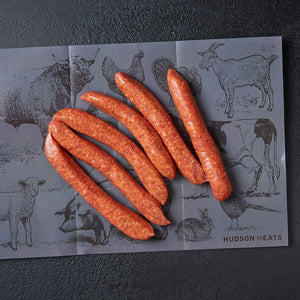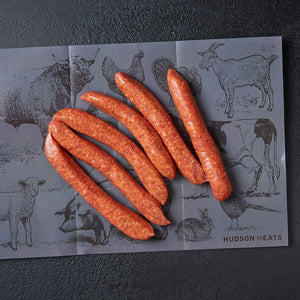 On Sale
French Merguez Sausages
Our thin gourmet French Merguez sausages are made with pasture-raised lamb.  French Merguez sausages are flavoured with Moroccan spices.
The sausages are made with a ratio of 85% meat and 15% fat.  Yes, fat is needed to ensure that the sausage is kept moist.  Only natural casings are used and the sausages are handmade in-house.
All our sausages are Gluten Free.
Cooking Tip:  Ensure that the sausages are out of the fridge at least 10 minutes before cooking.  Brush the sausages lightly with oil, do not add any seasoning, you can always add seasoning to your required palette after cooking and once tasted.  Never prick the sausages with a fork, you want the juices to stay inside to keep the sausage moist. The sausages do not take long to cook, approximately 10 minutes.  Place on pre-heated hot-pan or BBQ on a low heat, continue turning to achieve a nice colouring of each side of the sausage.  Remove from heat and allow to rest for 5 minutes before serving.