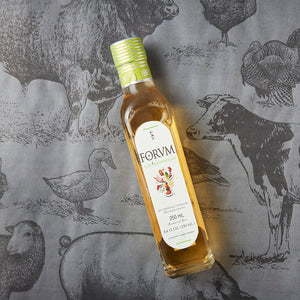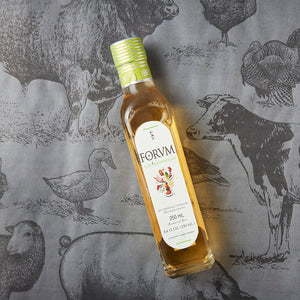 On Sale
Forvm Chardonnay Vinegar
Forvm, also known as Forum or Forvum, Chardonnay Vinegar is a delicate Spanish white wine vinegar.
Forvm Chardonnay vinegar is made from Catalan Chardonnay grapes. Chardonnay wine is aged in oak barrels with a little vinegar from the previous year. The vinegar contains 30% grape juice which gives it sweeter, more rounded flavours than most vinegars. This perhaps explains Forvm Chardonnay vinegar's somewhat cult following.
Forvm vinegar comes from the Roca family's vineyard in Penedès – west of Barcelona. It started as a small winery but when the family tasted an old, abandoned barrel of wine they realised what excellent vinegar the grapes produced – so they changed tack. The thirty-year-old company's vinegars have featured on many prestigious menus – from Nobel Peace Prize dinners, to many of the world's best kitchens, such as El Bulli.
Drizzle a little of the Chardonnay vinegar over cured salmon or scallops, or try a few drops inside a shucked oyster.
Forvm Chardonnay is so sweet, tangy and full bodied, it doesn't even need mixing with olive oil for a salad dressing. Drizzle it straight onto green leaves or a tomato and cucumber salad.