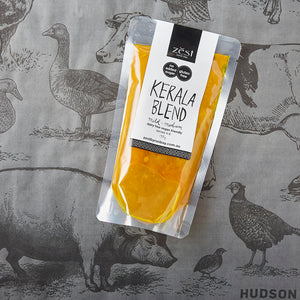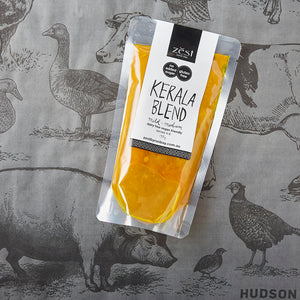 On Sale
Zest Kerala
In the hills of Byron Bay amongst music and laughter, the Zest Byron Bay team hand produce a beautiful range of spice pastes and recipe blends that are simple, easy to use and full of colourful aromatic flavours.
Using only quality ingredients for optimum flavour, their vibrant earthy tones will turn any dish into a sensory feast with their rich yet subtle qualities suitable for all palettes and cooking styles to enjoy.
Each small batch production is created to ensure you get the best flavour every time.
Local fresh ingredients are used where available and the entire range is gluten free, dairy free, vegan and has no added sugar.
KERALA BLEND
Mild-Medium
This deep yellow curry blend is inspired by the spicy, sour tastes of Southern India.
Using fresh green chillies, tamarind, turmeric and curry leaves, this rich balance of flavours marries perfectly with seafood.
All our flavours are gluten free, vegan, dairy free and have no added sugar.