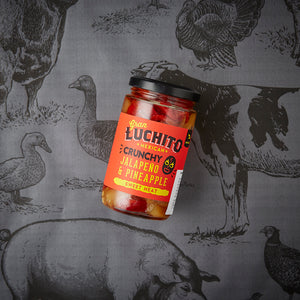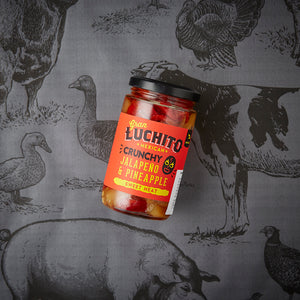 On Sale
Gran Luchito Crunchy Jalepeño & Pineapple
Gran Luchito are hugely passionate about bringing the authentic taste of Mexico to kitchens around the world.
Gran Luchito  pour their heart and soul into their range of products because they want you to discover the joy of cooking and sharing real Mexican food with your friends and family.
Bring your Mexican feast to life with our medium heat Red Jalapeño & Pineapple Taco Toppings.
Sliced and diced in Mexico.
Red Jalapeños are left on the vine longer than green Jalapeños to mature, and the result is a slightly sweeter tasting chilli. The combination of crunchy red Jalapeños with diced pineapple make for the perfect balance of sweet heat.
These Mexican toppings work amazingly well on steak tacos, cheesy nachos and veggie quesadillas.